Tools & Strategies to Advance Small Scale Incremental Development & Infill
Darin Dinsmore & Buildbrite worked with a team of national experts in 2015 to identify 30 leading strategies that would help Communities implement SMART infill development. Since 2015, more that 220 cities have benchmarked their infill readiness and 4o more are taking steps to develop their infill roadmap. The roadmap helps to clarify priorities, remove obstacles to infill, and provide predictability and efficiency in the approval process. A national network of small scale developers/builders actively transforming their communities is critical to the success of the program. We know  local developers are more likely to invest in local projects that implement the community vision and fit local context and scale.
Infill SCORE provides a snapshot of how easy it will be to work with your local municipality to seek appropriate approvals and deliver projects on time and budget. The tool generates support for reduced fees, reduced parking requirements, and greater project flexibility. 22 out of 30 strategies directly relate to improved opportunities for incremental, smaller scale development. The Infill Roadmap will quickly set your community on a path to help streamline your projects.
National demand for small incremental infill
These are the top challenges faced by cities trying to implement a SMART infill program across the U.S.:
Overcoming Opposition with Appropriate Community Character
Building Community Support Through Appropriate Density and Design
Designing Development Impact Fees that Facilitates an Infill Strategy (reduced fees for small projects/units)
Adequate Infrastructure to Serve Infill Development
Reducing Regulatory Impediments to Infill Development (streamlining)
The challenge facing many communities is promoting  development that fits into existing surroundings. Local and small scale builders are poised to deliver projects that both pencil out and fit into existing neighborhoods/communities.
Top 5 Reasons to Launch a SMART Infill Program
Early warning system
Remove barriers
Improve predictability & speed
Find new sources of capital
Free & Collaborative
Infill SCORE uses an algorithm to calculate a score out of possible 100 points and provides recommendations where a community might improve. See an example below which scores a B+ overall, but also scores high for being proactive and friendly towards small incremental infill. Of the 30 Strategies used in the evaluation, parking requirements are heavily weighted - as it is often the most significant barrier to a project penciling out. The scorecard results can also be used by developers to see if there is political will for a project and to see how their community compares to others across the country . This "early warning system" can ensure budding developers do not suffer from too much "brain damage" on their first project.
We encourage cities to adopt a policy of prioritizing small incremental development and supporting finance strategies. Our SMART infill program encourages communities to create a local developer capacity-building program. We want to ensure that communities actively facilitate local developers' skills & knowledge of small scale & infill development techniques, design & finance. ​ We help communities create pilot infill development programs in priority infill areas. The following strategies are designed to remove barriers to implementation:
Ease Parking Requirements in Infill Locations
Adopt Flexible Codes
Provide Clear Rules for Renovating Historic Buildings
Create a Parking District 
Offer Density Bonuses in Infill Locations
Set Tiered Impact Fees
3. Improve predictability & speed
We encourage the creation of a private sector-developer liaison, a position dedicated to working with local developers & encouraging small-scale infill development, streamlining the process, removing obstacles & assisting developers building projects.​ We help strengthen small-scale infill development incentives that are rarely used or are not sufficiently catalyzing infill development. We help communities investigate state & federal infrastructure/development financing programs. Communities focus public investment by targeting specific priority infill areas & build community support for change by developing a shared vision working with local developers and builders. We recommend that communities Identify Priority Infill Development Areas and also Expedite Development Review for those projects.
4. Find new sources of capital
Small Infill developers often have to pay to upgrade water, sewer, stormwater, streets, and other infrastructure. We provide research, tools and support for communities to implement creative funding & finance strategies needed by small scale builders and developers. We encourage communities to establish partnerships and leverage resources, build capacity, & coordinate efforts. Innovative funding options & infrastructure finance include:
Attract Private Equity
Enact a Property Tax Abatement Program for Infill Locations
Implement a Land Banking Program
Encourage Community Development Corporations
Use Participatory Budgeting & Encourage Crowdfunding for Projects

Create a Tax Increment Financing District

Create Special Assessment Districts
5. FREE Tools & Resources
The Scoring tool, Roadmap tools and Infill Lexicon are free tools for developers/builders, civic leaders and City Staff to use that accelerate infill development and community revitalization. They can also be used to set priorities and identify gaps in the policies, codes, and regulations. Many communities are using the tools together with the city staff, planning commission/council and developer/builder community to overcome obstacles and take action!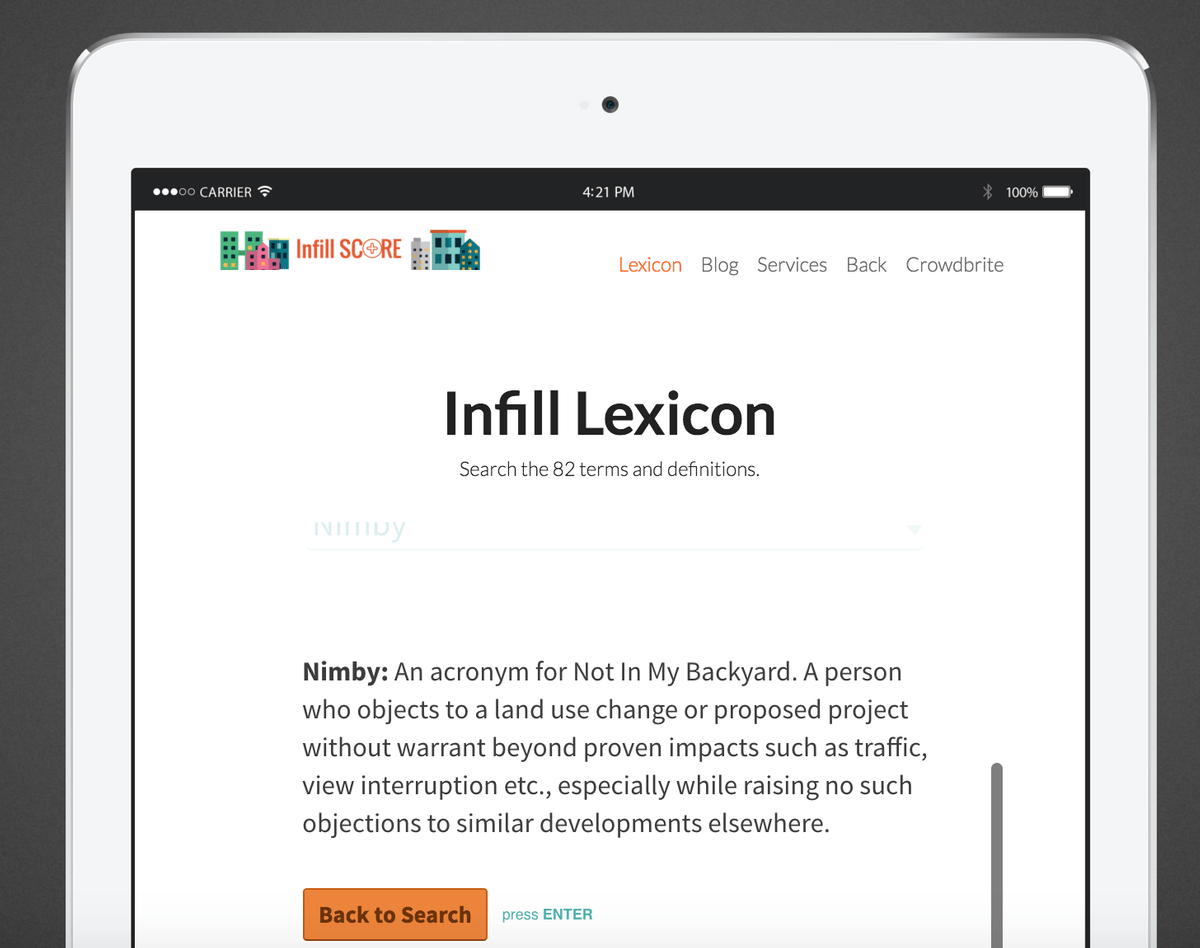 Step #1 - Calculate your Score
Watch the Introductory video below
Share results with community leaders
If you need clarification check the lexicon
Check out leading communities